About Pinnacle Pest Defense
Established in 2013, but with over 60 years of combined experience solving pest problems, Pinnacle Pest Defense is New Braunfels locally owned pest control company. We deliver professional, friendly, and affordable services to residential and commercial customers in order to make homes and businesses pest-free.
Why Choose Pinnacle Pest Defense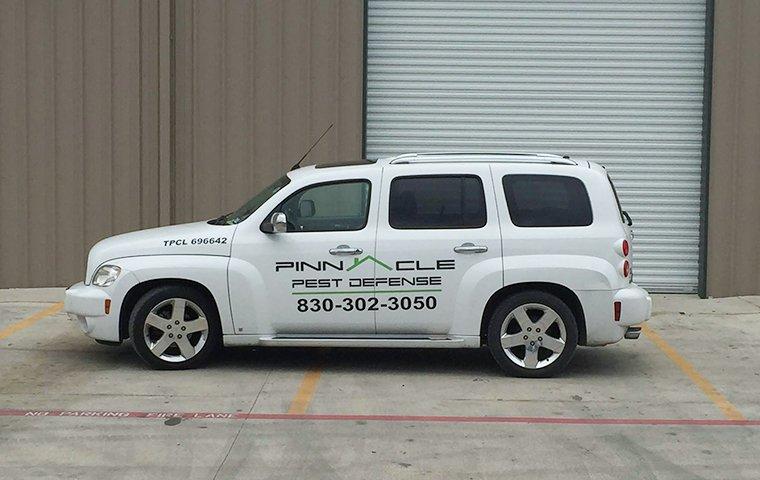 At Pinnacle Pest Defense, we saw a need in our industry to focus on excellent customer service and results, so we're filling that gap.
Our company values are integrity, excellence, service, and quality.
We continually educate ourselves and our employees on the latest technologies and practices in our field to ensure our customers' satisfaction.
We provide the highest level of service at an affordable price.
We are locally owned and operated.
We provide home pest control and commercial pest control services.
We offer free inspections.
We follow integrated pest management (IPM) best practices.
Our customers explain their specific needs to us so that we can customize their treatment plan to deliver the most effective results.
We specialize in real estate transactions and new construction.
We are members of the National Pest Management Association,

Texas Pest Control Association,

San Antonio Pest Control Association,

Four Rivers Association of Realtors, and

Texas Self Storage Association.
We Keep Our Customers Through Great Service, Not Contracts
When you need pest control, you want a company that treats you right and has the knowledge and experience to effectively take care of your problem. At Pinnacle Pest Defense, our focus is on meeting both of those needs. We provide excellent customer service and results, and because of that, we don't need to tie our customers into a contract. We know the best way to do business is through great service, not contracts. For your pest control needs, you can trust Pinnacle Pest Defense.
Request Your Free Inspection
Complete the form below to schedule your no obligation inspection.