Cicadas have an odd appearance that can make them seem exceptionally intimidating. These large bugs are commonly found in Texas yards throughout the summer and can be loud and annoying. If you are dealing with cicadas, Pinnacle Pest Defense can help you out. Our New Braunfels pest control technicians can help make your yard a little quieter by eliminating these bothersome bugs from your yard.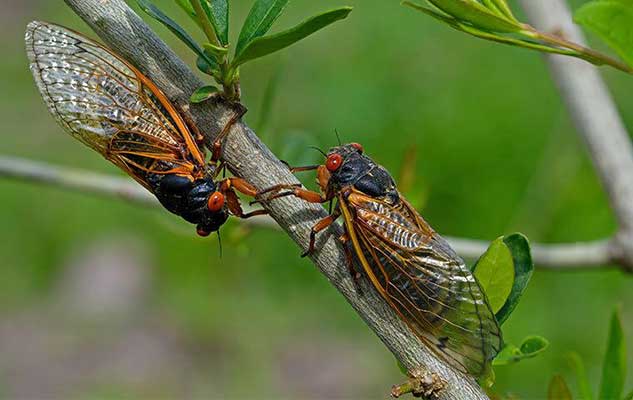 What Are Cicadas And Why Do They Make That Sound?
Cicadas are a type of flying insect that is about 1 ½ inches long. They have long and thick bodies that are usually black or dark gray. Their large, round, and red eyes are two of their most noticeable features as well as their large translucent wings that usually have orange markings on the edge.
Cicadas in New Braunfels are most known for the loud sounds that they are able to produce. The sound is sometimes compared to a cricket's chirp; however, the cicada makes more of a high-pitched buzzing noise instead of a chirp. Also, unlike crickets, the cicada's sound has nothing to do with its wings or its legs. Instead, they use an organ that is found beside their abdomen called a tymbal. The tymbal has several ribs that make a loud clicking sound when the bug flexes its muscle. As it moves its muscle faster and faster, the clicking noise will get louder and sound like a hum or a buzz. Sometimes, a cicada's sound can be so loud that it can be heard from a mile away. The male cicada makes this sound as a way to attract a female mate. 
Will Cicadas Bite Humans?
Cicadas have long needle-like mouthpieces that are similar to a mosquito's mouth. They use this long and slim piece to pierce the ground and suck nutrients from plant roots beneath the soil. Unlike mosquitoes, cicadas don't drink human or animal blood. It is also not possible to get stung by a cicada. There have been rare occasions when a cicada bit a human, but it is believed to be by accident and the cicada mistakenly thought the person was a food source.
How Can I Prevent Cicadas Around My Yard?
Cicadas like yards that have a lot of vegetation and trees. Some of the things that you can do to keep cicadas out of your yard include:
Keep your trees, shrubs, and bushes pruned and well-maintained.
Use netting around young trees and plants.
Keep a cover over your swimming pool or hot tub.
Spray your plants regularly to remove cicadas and their eggs.
Repair any holes in your screen door or windows to prevent them from accidentally coming into your house.
Cicadas are more likely to come into your yard if you use vibrating lawn equipment on a daily basis. Some types of machinery, like chainsaws and weed eaters, cause vibrations that other cicadas might mistakenly think are the sound of a cicada.
What's The Best Way To Get Rid Of A Cicada Infestation?
If you have a cicada infestation around your property, it could cause damage to your tree and plants. Unfortunately, most pesticides don't work when it comes to eliminating cicadas. In order to completely get rid of cicadas around your New Braunfels home, you should call the home pest control professionals at Pinnacle Pest Defense. We can eliminate these annoying bugs so that you can have peace and quiet in your yard once again.