Elevate Your Business with Our Commercial Pest Control
Pinnacle Pest Defense is your solution to commercial pest control in Floresville and New Braunfels, Texas. In the intricate dance of your business, a single pest can disrupt the rhythm, leading to damaged goods, unsafe environments, and a tarnished reputation. Our goal is to eliminate existing pest issues and fortify your establishment for future intrusions, ensuring the success of your enterprise.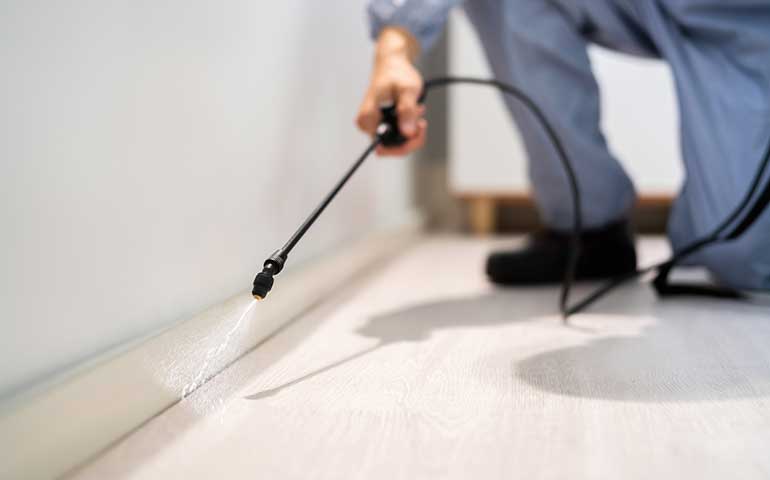 Customized Solutions No Matter the Pest
Our approach to commercial pest control starts with a thorough property inspection, providing you with a 48-hour notice. We discuss your concerns and then meticulously survey your property to identify entry points, harborage areas, and more. This assessment informs the tailored treatment options we present.
Seamless Integration with Your Day-to-Day Operations
We understand the importance of seamless service. Collaboratively, we craft a treatment plan that aligns with your business hours and employee schedules. We address current pest challenges and then implement integrated pest management techniques to prevent future issues.
Repeat Treatments Are Crucial to Completely Eliminating Infestations
Continual protection is crucial. Based on your needs, we offer recurring treatments quarterly, bi-monthly, or monthly. These visits include interior and exterior treatments, along with comprehensive web and nest removal.
Versatile Expertise from Our Team of Professionals
We serve diverse facilities with commercial pest control solutions. These include, but are not limited to:
Churches
Medical Offices
Nursing Homes
Schools
Storage Facilities
Warehouses
Call Us to Get Started with Commercial Pest Control, While You Focus on Business
Pinnacle Pest Defense is committed to providing exceptional service and results. With values of integrity, excellence, service, and quality, we stand as your trusted partner.
Preventive commercial pest control is the key to ongoing success. Protect your business from the potential pitfalls of infestations and ensuing damages with Pinnacle Pest Defense's proactive commercial pest solutions. 
Reach out today to explore our commercial pest control services. Your enterprise deserves the best defense, so call (830) 393-6964 (Floresville) or (830) 302-3050 (New Braunfels) today.