Professional Pest Management In La Vernia, TX
Located 25 miles east of downtown San Antonio, the town of La Vernia, TX, is situated on the south bank of Cibolo Creek. It's a small place with a population below 1,500, and our community is known for "living, learning, and working together." However, that can become difficult when pests enter the equation. Local pest populations present a year-round threat for La Vernia property owners, exposing us all to the dangers of infestation.

The most effective way to protect your home or business from pest infestation is to contact your local pest professionals. Pinnacle Pest Defense is here to address all your residential and commercial pest control needs. Since 2013, we've been servicing properties throughout Wilson County and the surrounding areas, bringing our customers the peak of service and value. With over 60 years of combined experience, you can count on our expertise to bring you pest-free results you can depend on. Call today for your free, no obligation inspection.
Home Pest Control In La Vernia, TX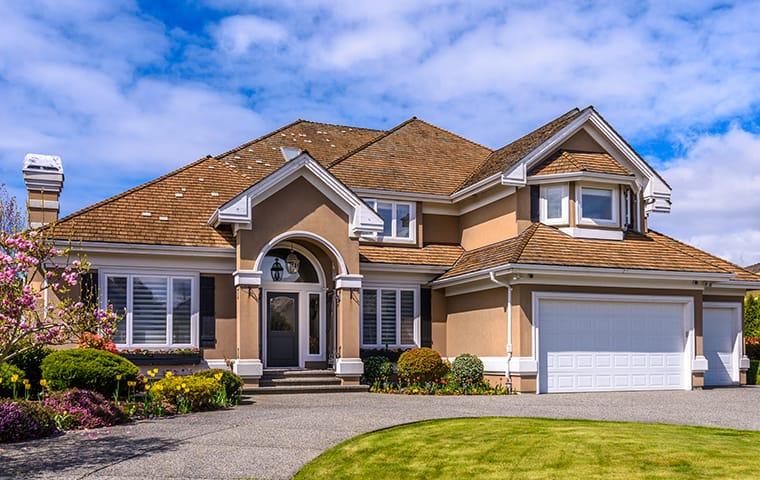 If you own a home here in La Vernia, it's important to consider your residential pest control needs. Household infestation can have detrimental effects on your home and everyone inside of it. To protect your family and your house, you can rely on Pinnacle Pest Defense. Our residential pest control plans include:
Pinnacle Pest
Basic service plan.
Free home pest inspection.
Interior and exterior plans.
De-webbing and de-nesting.
Coverage for over 20 types of pests.
Quarterly service visits.
Pinnacle Pro
Pinnacle Pest +
Weep hole service.
Fire ant control.
Scorpion control.
Bi-monthly service visits.
Pinnacle Platinum
Top tier service plan.
Pinnacle Pro +
Flea and tick control.
Mosquito and wasp control.
Termite control.
Monthly service visits.
Exterior Only Plan
Protection from common pests.
No interior services.
Whatever kind of pest pressure you're facing, get in touch with us for the help you deserve. We come back for monthly, bi-monthly, or quarterly service visits to maintain pest free conditions throughout the year, and we also offer specialty pest control services for termites, fleas, and cockroaches. Call us today to learn more.
Commercial Pest Control In La Vernia, TX
Our commercial pest solutions have protected a long list of properties in the area. Some of the facilities we've worked with include churches, medical offices, nursing homes, schools, storage facilities, and warehouses. Our process entails:
Inspection
48-hours' notice before arrival.
Discussing problem areas.
Identifying pests, entry points, and harborage areas.
Going over treatment plan options.
Service
Minimally invasive to your day-to-day.
Working around business hours and employee schedules.
Addressing existing pest problems.
IPM (Integrated Pest Management) techniques for prevention.
Ongoing Service
Maintaining a pest-free facility all year long.
Returning for follow-up depending upon your needs.
Quarterly, bi-monthly, or monthly treatments.
Interior and exterior treatments, de-webbing, and de-nesting.
Our team specializes in real estate transactions and new construction, and we're ready to bring you the peace of mind of pest-free living. Reach out today to schedule your free inspection. We look forward to bringing you the high level of service you deserve.
How To Get Rid Of Cockroaches In La Vierna
When cockroaches get into your La Vierna home or business, they spread bacteria throughout the property, and expose everyone inside to serious health risks. To protect yourself from cockroach infestation, it's a good idea to be as proactive as possible. Here are some tips for preventing cockroach activity:
Avoid leaving any food out, and keep food stored in sealed, air-tight containers.
Eliminate sources of humidity and excess moisture throughout the property.
Keep your property clean, free of clutter, and well-maintained from the inside out.
Use weather stripping around windows and doors to prevent entry.
While these suggestions can be a big help, the most effective protection against cockroach activity is to seek out help from the experts. Pinnacle Pest Defense is here to help. We offer trusted cockroach control services that local property owners can depend on all year long. Contact us today to learn more; we look forward to helping you.
How Dangerous Are La Vierna Wasps?
Wasps are stinging insects that are most active in the warm, summer months. They often find shelter in the eaves of your house, along fencing, under tree branches, or even the open ends of a pipe. While they're known for their painful sting, there are some good attributes of wasps to consider.

Wasps provide natural pest control, chewing up caterpillars and other small insects that they use to feed larvae. They're also great for gardens as they help along the process of pollination. Obviously, the painful sting is what's most concerning. Some wasps only sting once, while some of them can sting multiple times until they lose their stinger. Certain wasp species have venomous stingers and can be more aggressive, such as yellow jackets.

Whatever kind of wasp you're dealing with, it's important to protect yourself. The best source of quality stinging insect control is ongoing services from the pest experts. Call Pinnacle Pest Defense today to discuss your wasp control needs, and we'll get the ball rolling.
Request Your Free Inspection
Complete the form below to schedule your no obligation inspection.