Professional Pest Management In La Vernia, TX
Located 25 miles east of downtown San Antonio, the town of La Vernia, TX, is situated on the south bank of Cibolo Creek. It's a small place with a population below 1,500, and our community is known for "living, learning, and working together." However, that can become difficult when pests enter the equation. Local pest populations present a year-round threat for La Vernia property owners, exposing us all to the dangers of infestation.

The most effective way to protect your home or business from pest infestation is to contact your local pest professionals. Pinnacle Pest Defense is here to address all your residential and commercial pest control needs. Since 2013, we've been servicing properties throughout Wilson County and the surrounding areas, bringing our customers the peak of service and value. With over 60 years of combined experience, you can count on our expertise to bring you pest-free results you can depend on. Call today for your free, no obligation inspection.
Home Pest Control In La Vernia, TX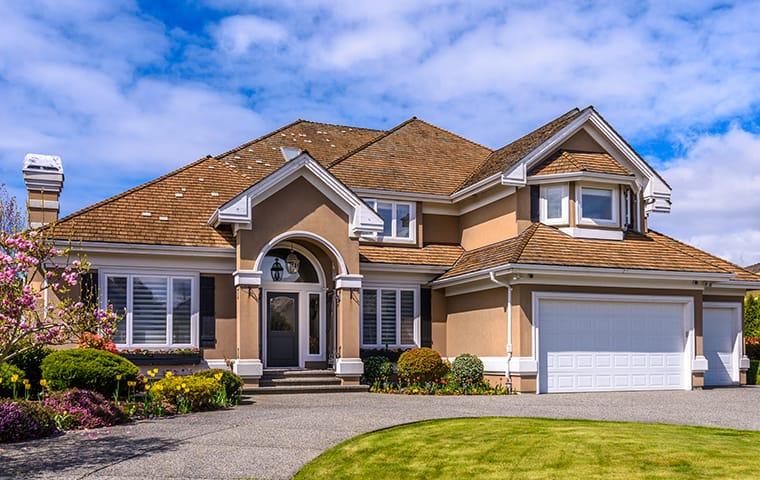 If you own a home here in La Vernia, it's important to consider your residential pest control needs. Household infestation can have detrimental effects on your home and everyone inside of it. To protect your family and your house, you can rely on Pinnacle Pest Defense. Our residential pest control plans include:
Pinnacle Pest
Basic service plan.
Free home pest inspection.
Interior and exterior plans.
De-webbing and de-nesting.
Coverage for over 20 types of pests.
Quarterly service visits.
Pinnacle Pro
Pinnacle Pest +
Weep hole service.
Fire ant control.
Scorpion control.
Bi-monthly service visits.
Pinnacle Platinum
Top tier service plan.
Pinnacle Pro +
Flea and tick control.
Mosquito and wasp control.
Termite control.
Monthly service visits.
Exterior Only Plan
Protection from common pests.
No interior services.
Whatever kind of pest pressure you're facing, get in touch with us for the help you deserve. We come back for monthly, bi-monthly, or quarterly service visits to maintain pest free conditions throughout the year, and we also offer specialty pest control services for termites, fleas, and cockroaches. Call us today to learn more.
Commercial Pest Control In La Vernia, TX
Our commercial pest solutions have protected a long list of properties in the area. Some of the facilities we've worked with include churches, medical offices, nursing homes, schools, storage facilities, and warehouses. Our process entails:
Inspection
48-hours' notice before arrival.
Discussing problem areas.
Identifying pests, entry points, and harborage areas.
Going over treatment plan options.
Service
Minimally invasive to your day-to-day.
Working around business hours and employee schedules.
Addressing existing pest problems.
IPM (Integrated Pest Management) techniques for prevention.
Ongoing Service
Maintaining a pest-free facility all year long.
Returning for follow-up depending upon your needs.
Quarterly, bi-monthly, or monthly treatments.
Interior and exterior treatments, de-webbing, and de-nesting.
Our team specializes in real estate transactions and new construction, and we're ready to bring you the peace of mind of pest-free living. Reach out today to schedule your free inspection. We look forward to bringing you the high level of service you deserve.
How To Get Rid Of Cockroaches In La Vierna
When cockroaches get into your La Vierna home or business, they spread bacteria throughout the property, and expose everyone inside to serious health risks. To protect yourself from cockroach infestation, it's a good idea to be as proactive as possible. Here are some tips for preventing cockroach activity:
Avoid leaving any food out, and keep food stored in sealed, air-tight containers.
Eliminate sources of humidity and excess moisture throughout the property.
Keep your property clean, free of clutter, and well-maintained from the inside out.
Use weather stripping around windows and doors to prevent entry.
While these suggestions can be a big help, the most effective protection against cockroach activity is to seek out help from the experts. Pinnacle Pest Defense is here to help. We offer trusted cockroach control services that local property owners can depend on all year long. Contact us today to learn more; we look forward to helping you.
How Dangerous Are La Vierna Wasps?
Wasps are stinging insects that are most active in the warm, summer months. They often find shelter in the eaves of your house, along fencing, under tree branches, or even the open ends of a pipe. While they're known for their painful sting, there are some good attributes of wasps to consider.

Wasps provide natural pest control, chewing up caterpillars and other small insects that they use to feed larvae. They're also great for gardens as they help along the process of pollination. Obviously, the painful sting is what's most concerning. Some wasps only sting once, while some of them can sting multiple times until they lose their stinger. Certain wasp species have venomous stingers and can be more aggressive, such as yellow jackets.

Whatever kind of wasp you're dealing with, it's important to protect yourself. The best source of quality stinging insect control is ongoing services from the pest experts. Call Pinnacle Pest Defense today to discuss your wasp control needs, and we'll get the ball rolling.
Ants Found In La Vernia: The Complete Guide
Ants in La Vernia are the most common nuisance pest, but they're not all the same. Here are the most common ants that live in the area:
Fire ant: These bright red ants usually live outside and will bite if they feel threatened.
Argentine ant: This slender black ant has pronounced antennae and feeds off of plants.
Carpenter ants: The carpenter ant is one of the larger species in the area and is a problem because they burrow inside of wood, which leads to structural flaws.
Little black ants: As the name would suggest, these ants are very small and black in color. They are attracted to foods that are meaty, oily, greasy, sweet, and sugary.
For more information on ant control, contact Pinnacle Pest Defense today.
Four Things Every Homeowner Should Know About Fleas
Fleas can quickly become a problem for La Vernia's homeowners, and here are four things that every resident ought to know about them:
You can develop fleas without having pets. While fleas are commonly spread via household pets, they can also become an issue because of neighbors with fleas, wildlife issues, or due to used furniture.
They are dangerous for both people and animals. Fleas feed off of warm blood, so they typically prefer cats and dogs. This feeding can lead to anemia, murine typhus, tapeworm, and heartworm in pets. For people, fleas usually cause irritated skin from scratching, but can cause more harmful side effects as well.
Fleas are prolific. While a flea's average lifespan is approximately 100 days, they can lay 40 eggs after a meal and usually start reproducing within a few weeks of hatching.
Professional services are the best way to address them. It's difficult to see fleas with the naked eye, and because of their reproductive habits, the most effective way to address them is by hiring a pest pro.
At Pinnacle Pest Defense, we provide ongoing support in the fight against fleas. Our signature service begins with a comprehensive property inspection and a discussion about how our customers are experiencing fleas. We'll check inside the home and in harborage areas in case an outbreak is caused by wildlife. We customize our treatments to our findings and either perform interior or exterior treatments or a combination of the two. Our technicians will return two weeks after the initial treatment to ensure a flea-free home and we'll perform any re-treatments if fleas are still present. For more information on our flea control services in La Vernia, call us today.
Why Professional Mosquito Control For Your La Vernia Yard Is A Good Idea
Mosquito season in La Vernia can range from early spring and go well through the fall, which means that there are many opportunities for you to be exposed to these biting pests. Their seasonal nature means that they will always appear and that makes them even more difficult to address on your own, which is only one of the many reasons why professional mosquito control is a necessity.
Another important factor in why you should consider services from a pest control company is because mosquitoes are tenacious and will do anything they need to in order to access human blood. The presence of people on your property is enough to draw mosquitoes to it, and there are things like genetics, time of day, body odor, and personal hygiene product choices that all make people enticing to mosquitoes and make it hard to keep them away.
Working with a pest pro will also help to protect everyone in your household from the potential health risks that come with having mosquitoes. When mosquitoes feed off of a diseased host, they can transmit those pathogens to you, which is how they are linked to West Nile virus, St. Louis encephalitis, and countless other hazards.
To learn more about mosquito treatments that will work for your home, call Pinnacle Pest Defense today.
Importance Of Professional Termite Protection For La Vernia Homes And Businesses
The importance of working with a professional pest control company when dealing with termites cannot be understated for local homeowners and businesses. These pests are small but mighty and seek to destroy any structure that's made of wood. The fact is that termites can be attracted to wood in its many forms, which is usually plentiful in local homes and businesses. This makes preventing a termite issue very difficult because things like having mulch up against a building or water damage can add to the ease of attracting termites. Professional services can provide people with things like proactive monitoring, Wood-Destroying Insect Reports, pre-construction treatments, and active baiting systems to stop termites before they become an issue.
If termite infestations do happen, professional assistance is the most effective way to eliminate them. The species of termite usually determines the number of termites in a colony, but those can range anywhere from 1,000 to 2 million members. DIY methods simply aren't capable of addressing an issue of this scope, even if someone were lucky enough to locate the source of the colony. Termites cost Americans approximately five billion dollars in damage each year, all of which can be addressed more effectively with professional help.
For more information on reliable termite control in La Vernia, call Pinnacle Pest Defense today.
Request Your Free Inspection
Complete the form below to schedule your no obligation inspection.